If standard market cars seem underwhelming, especially with how they look and perform, then a project car is the best solution. No matter if you have £1000 or £10,000, there are a multitude of options when it comes to picking the best car to modify.
We've covered our top 10 cheap cars to modify, so whether you're a complete beginner or an experienced tuner, take a look below.
1. VW Lupo
The VW Lupo is potentially the cheapest on our list. Thanks to its age and small 1.0L or 1.4L engine, it can be found for around £2,500. This makes it the perfect beginner's car for modifying.
You can pick up reasonably priced coil overs for the Lupo, and because it has small wheels, you can add aftermarket alloys for under £400. A 1.2" to 1.5" sports exhaust will help air flow through to the engine, and uprating the suspension will help with that bumpy feeling that the Lupo is known for.
2. Subaru Impreza WRX
Subaru Imprezas are one of the most popular Japanese cars to modify. In fact, it's harder to find a used WRX that hasn't been modified by its previous owners. You can get a Subaru for around £4,000, although the average cost is around £7,000 for an unmodified example. Rare or high-spec models can reach over £20,000 regularly.
But there's more to it than fitting those famous gold alloys. Your Impreza modification options are endless. Depending on the model you get your hands on, you can perform engine upgrades and remapping, intercooler upgrades, add a new exhaust… and should you wish, many rally team decals. 
3. Mitsubishi Lancer / Evo
Thanks to the range of models available, you're likely to be able to get your hands on a Mitsubishi project car that suits your budget. You can get an unmodified Lancer for as little as £3,000. A fully modified Lancer, however, can be over £22,000, and a Tommy Makinen Lancer can be way over £50,000 if you've got money to splurge!
If you have a tight budget, look for the early 2000s models which are more cost-effective to use as project cars. Much like the Impreza, the Mitsubishi Lancer and Evo are the kinds of cars you often see modified on the road. There is a multitude of cosmetic and performance upgrades you can make, depending on what you want to achieve with your budget.
4. Mini Cooper
The Mini Cooper is a great starter car for your first modification project. With endless customisation options, body kits and alloy packages available, you can easily ramp up the look of your Mini and make it truly individual.
There are the usual engine tweaks you can make to give your Mini some extra oomph, including suspension upgrades and new exhausts. Or you can choose to tweak it cosmetically, setting it apart with a custom paint job or decals.
You can get Minis from the 2000s for around £1,500, and with a 1.6l engine as standard in many, you've got a lot of power in a small body.
5. Mazda MX5
Depending on age and condition, the MX-5 is another car that's perfect for smaller budgets, starting at around £1500. Of course, this rises considerably the newer the model, but the MX-5 remains an all round popular car to modify. There is a multitude of body kits, spoilers, splitters and wheels available for a reasonable price.
The Mazda MX-5 is an incredibly popular mod car, as it's a relatively simple base with many, many opportunities to add your own spin to it. They're cars loved by the JDM community, the sports car community and the entire car community in general. Even Jeremy Clarkson likes them.
Take a look at this stunning modified MX5 in our Garage…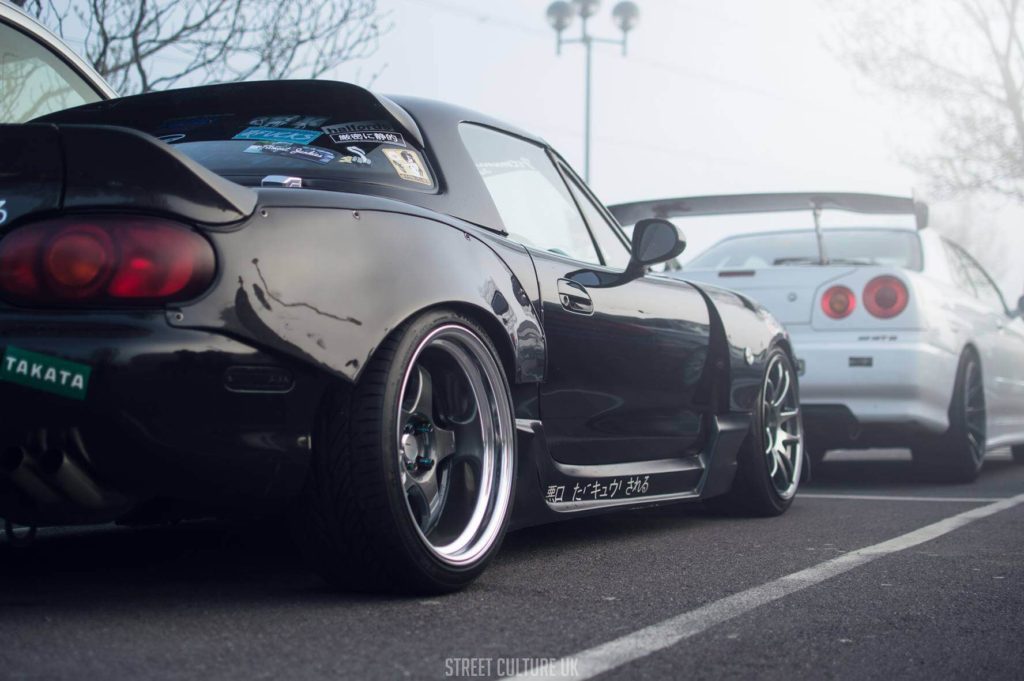 6. Mazda RX-7
Starting at around £5k or £6k for an older model, this project car isn't on the cheaper side. However, in the RX-7, you can increase power without making excessive modifications thanks to its Wankel Rotary engine.
With the Mazda RX-7's powerful engine, there are immediate enhancements you can make to balance the stock engine with the potentially underperforming older parts with newer and uprated ones, such as brakes and coil overs. The Mazda RX-7 is also exciting visually as you can make it look similar to a high-end performance car. There are fewer of them available on the general market, but if you're willing to wait for a gem, it could be ideal.
7. Citroen Saxo
As a budget project car, a Citroen Saxo offers great opportunity for customisation, having been a strong staple in the modding scene since the '90s. You can grab one of these hatchbacks for under £1000, and you'll be able to find many cheap external mods on the market to get you started.
Some people will strip it back to the chassis, especially with the 1.1l version, although the 1.6l version is a better base to start with, as you've got the bigger engine from the get-go.
8. Toyota Supra
You'll never find a Supra Turbo for super cheap, however, if you're lucky, it is possible to find a Supra for around £9k. It's hard to spot a Supra on the road that hasn't been modified, and for good reason. There are countless parts and add-ons available, giving you endless options for modification.
The Supra has been a modder's dream car since forever, and some take them on tracks, to car shows and others will make them race cars! There's a whole host of opportunities with a Toyota Supra.
Some people have even gone as far as to replicate The Fast and the Furious. We love Supras, in fact, take a look at this beauty in our Garage…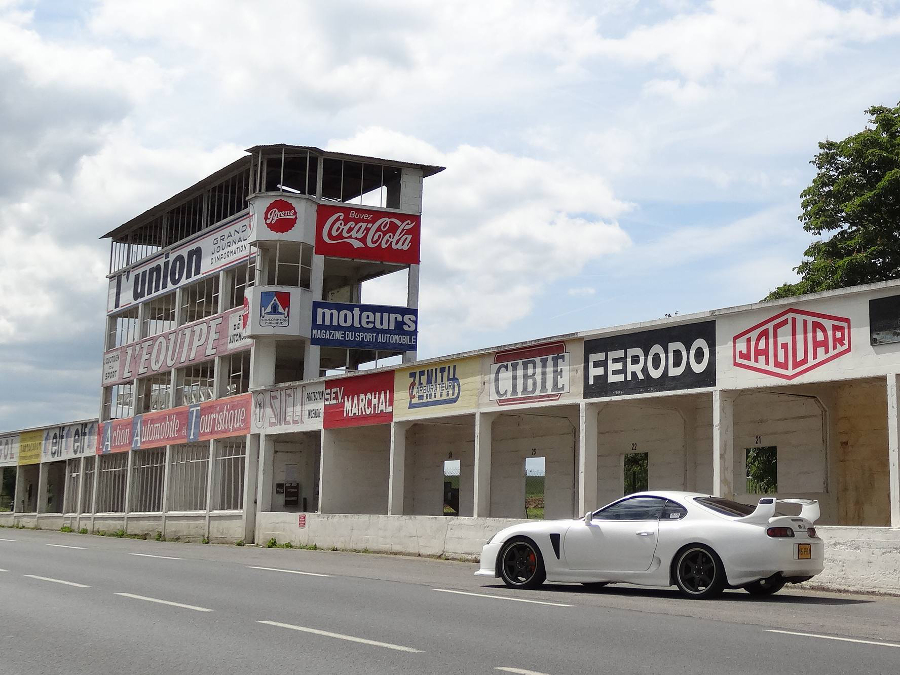 9. Honda S2000
Though the car already has an impressive engine, there are a few modifications you can make to improve performance and handling. This includes a full exhaust and throttle body conversion, a new set of coilovers, uprated bushes and more.
Another JDM variant that's been popular from day one, it's harder to find an un-modded version of the Honda S2000, but if you keep hunting, you might find an absolute gem.
10. BMW E46 (3 Series)
You can pick up a BMW E46 (3 Series) for relatively cheap, with starting prices at around £1,000 for one that needs some work. Easy to modify, you can make the car very much your own. New coilovers, an intake upgrade, new exhaust, wheels, the list goes on. Brakes are a great place to start, as are swapping in some fresh alloys.
It's also a bigger car, so much more ideal if you want a modded car that you can also take the family out in.
Check Out Our Garage…
Many have poured their passions into these kinds of projects as an expression of their enthusiasm for cars. From the Keith Michaels Garage, you can discover an impressive line-up of finely tuned machines that testify to the power of project cars.
Insuring Your Project Car
Whilst good project cars are cheap to find and modify, their insurance can typically be costly if not approached correctly. Modified car insurance is vital to secure the true value of your project car, whether you've made small tweaks or done a complete overhaul.
With over 30 years of experience, Keith Michaels has built a solid reputation for specialist car insurance, including modified insurance. We can find you a cheap policy to ensure that your project car is covered. Request a quote today.