Ferrari Owner Car Insurance
We understand your Ferrari is your pride and joy. These beautiful machines need the very best cover, and thanks to our years of expertise insuring prestige, performance vehicles, we can help.
We can offer a specialist quote based on the following:
Ferrari mileage and usage expectations.
Previous Ferrari ownership or similar vehicle.
Good vehicle security.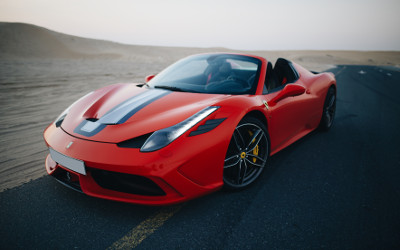 Our specialist Ferrari car insurance acknowledges the fact that the Ferrari is probably still the most evocative make available. A special car requires special cover – please let us look after you.
Classic and Rare Ferraris Also Insured
Older models from the 348 range and earlier (e.g, 328, 308, Testarossa) can now be covered on a Cherished/Classic Car Insurance basis. We can also source insurance for rare models including the F40, F50, Enzo and Laferrari.
Modified Ferrari Car Insurance
Ferrari's are popular cars for aftermarket modifications. We are experts in modified Ferrari car insurance and are able to tailor your quote to suit your unique circumstances. Get in touch today.
The Keith Michaels Difference
30 years' experience
Every customer is treated as an individual, not a policy number
We are a UK-based office, not a call centre
We are completely independent from any insurance company
All policies are looked at on their own merits to find you the best policy available
---
A Guide to Ferrari – FAQs
How much does it cost to insure a Ferrari?
This will depend on a number of factors. The first being the model of Ferrari insured, the mileage you intend to do, security, your driving history and your age to name a few. As Ferraris are luxury, high performance vehicles, you can expect insurance to be a lot higher than standard car premiums.

However, due to the prestige nature of this type of insurance, you are best off approaching a specialist insurance broker who will be able to arrange the best cover at the best price for your pride and joy.
What is the cheapest Ferrari?
Older classic Ferraris like the Ferrari 400i, Mondial and the Dino Coupe are some of the cheaper classic Ferraris you can buy today. However, the cost of upkeep of these vehicles with a low pricetag means they likely won't stay cheap for long.
Are Ferraris reliable?
Ferraris are not regarded for their reliability, but, as with all cars, the better you look after it, the better the reliability. However, many owners insist they've experienced no major issues with their Ferrari.
Do Ferraris hold their value?
Ferraris are known to have some of the lowest depreciation rates amongst supercars, and resale values have increased for several models over the years.