Plans to raise the motorway speed limit to 80 mph will cost up the £1 billion claim safety campaigners. This is merely a monetary value as the real cost of death and injury can never be measured in such terms.
For many years now there has been a concerted effort to increase the limit from 70 to 80 mph on certain 'safer' sections of the motorway network. The UK is behind its European neighbours in this respect and many would support its introduction. It would appear that a very large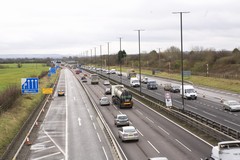 part of their increased costs claim comes from the increase in fuel consumption and carbon costs.
If you have been one of the many people caught for speeding on our motorways then you will no doubt be pleased with the news, as we are. If you have been unfortunate to have received a conviction or worse still, a ban, then do contact us for convicted driving insurance or speeding ban insurance.
AA President Edmund King spoke to the Telegraph on the subject last week: "Some stretches of motorway are more suitable for 80mph than others," he said. "If you don't have adequate central reservation barriers, a hard shoulder and variable speed limit message signs then the road is not safe for 80mph."
We should find out in the next few months as to which roads (if any) will be put forward for consideration.