Famed for its impressive performance and being a fan-favourite amongst avid rally-goers, the Subaru WRX STi is increasingly sought-after by Subaru enthusiasts and car-lovers alike.
The best part about the WRX STi is that this already remarkable car can be made even more exciting with a wide range of performance modifications, from front to back, inside to outside.
But with so many modifications available to upgrade your Subaru, it can be difficult to know where to start. We've collated our pick of the ten best modifications available for your Subaru WRX STi to inspire you to get started.
Best Mods for Subaru WRX STi
1. Cold Air Intake
Kicking off the list is your cold air intake which can have a big effect on the performance of your Subaru.
Relocating this air filter lower to the ground assists in avoiding hot air from rising, and in turn, attracting denser air. Taking in denser, cooler air allows for more fuel to be burned, and creates more power to boost your performance.
Be aware, however, that installation is tricky and requires some complex routing, which can be costly. It's worth remembering that whilst the placement of your upgraded air intake does bring many enhanced performance benefits, it may leave it vulnerable to high water or debris intake.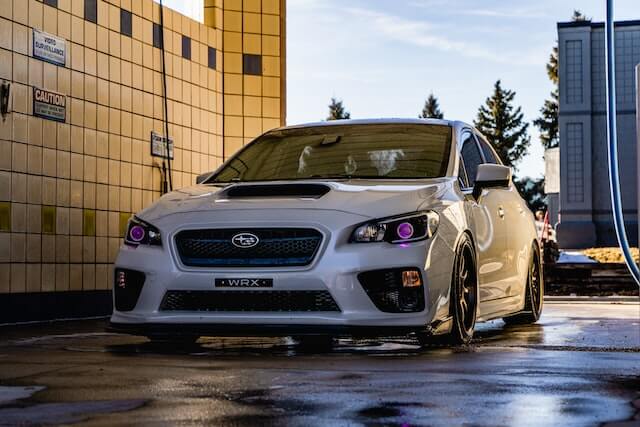 2. Coilovers
Looking to change the suspension of your Subaru WRX STi? Coilovers are a great place to start. Not only does this modification provide height adjustment, improved handling, and adjustable damping to name a few, it can also improve the overall look of your Subaru with a new and improved stance.
Remember that when you're choosing coilovers, you also need to consider how you'll be driving your car, whether that be for the daily commute, track days or rallying, as it will have bearing on the type of coilover you're after.
Be aware, however, that installing coilovers isn't a one-way ticket to perfect suspension. Investing in other modifications such as high-performance tyres will supplement this modification to get the desired results.
3. Tyres
Whether it's your daily driver or your rally partner, your Subaru needs the right kind of tyre for the job at hand. Not only are they one of the most important parts that keep you on the road, but your tyres will also affect the performance and quality of drive of your vehicle.
Performance tyres will have a huge difference on the handling of your vehicle. Selecting the right tyre for your needs may be a lengthy and potentially costly process, but it's vital for both a safe and optimal drive performance-wise.
4. Exhaust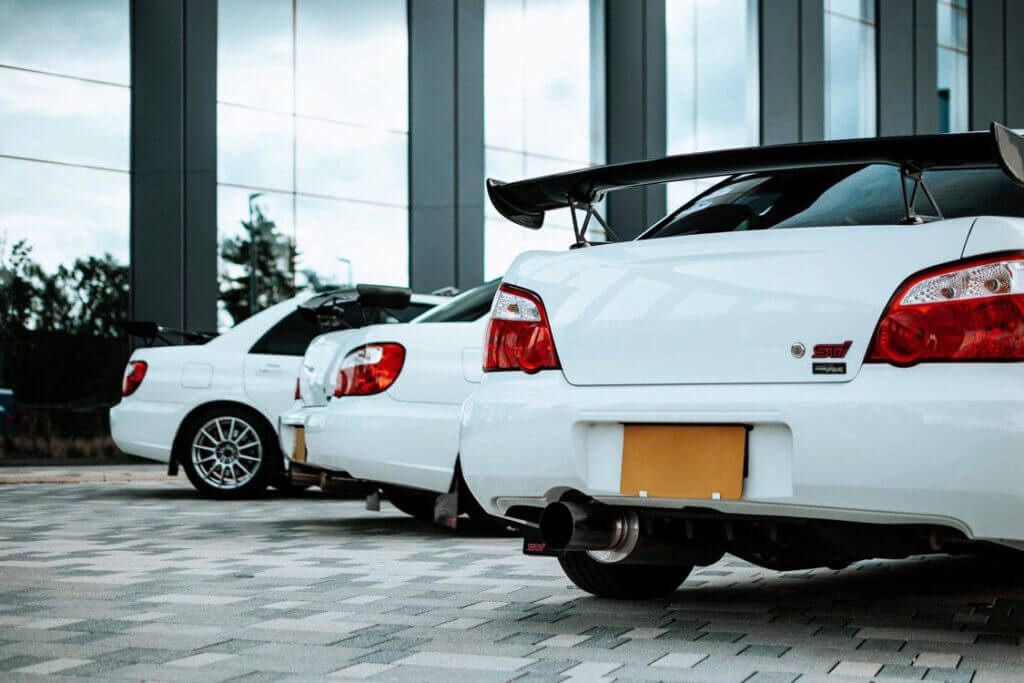 A very popular modification for the WRX STi (and on any car really), an aftermarket exhaust upgrade will not only provide more power to your turbocharged engine, but it'll also enhance that iconic scooby sound!
Whether you're in it for enhanced performance or are simply keen to improve the acoustics, picking the right exhaust is personal. There are many exhaust upgrades available to you and your specific Subaru WRX model, so it may be a lengthy research process to pick the perfect one for your needs.
5. Upgraded / Uprated Brakes
One of the most, if not the most, important features on any car is the brakes. But they don't just impact safety, they also have bearing on performance. So, when you're modifying your Subaru WRX STi for increased performance, then considering upgrading your brakes is a must.
Whilst OEM brakes will do the job and should cope if you're using your scooby as a daily driver, if you're looking to really test your car around the track or a day of drag racing, then big brake upgrades are needed to cope with the high speeds and sharp braking.
From K-sport to Brembo, brake upgrades will set you back a couple of grand, but it really is worth it alongside your other modifications (and to tame the beast!).
6. Front Mount Intercooler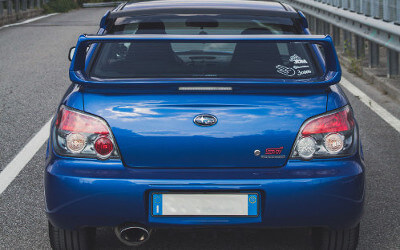 Whilst it improves radiator efficiency, the top mount cooler of the Subaru WRX STi can fall victim to heat soak. This results in power loss and in some cases, run your car dangerously. The front mount intercooler, however, provides the solution you need. This modification relocates the intercooler to the bumper, reducing the temperatures and improving power.
It should be noted that this modification is particularly beneficial if you're rallying your WRX, so if you're using yours as a daily driver, with a small to medium turbo, this mod might not be for you.
7. Engine remapping
To get the very most from your performance modifications, engine remapping is the way to go. By adjusting the engine's Electronic Control Unit, you can instantly alter the performance of your car. While the standard WRX STi engine kicks out 310 horsepower, you may be looking for that little extra kick, and an engine remap is a great way to do this.
It should be noted that its advantage may also be its undoing. Engine remapping might offer the greater power you're looking for, but this will put pressure on the engine or other components such as the clutch. You might need to get it serviced more frequently as a result.
8. BPV / BOV Upgrade
Next on the list is the BPV / BOV upgrade. The stock valve can leak at high boost levels, which in turn can cause your Subaru WRX STi to run at less power than it should and can restrict airflow. The Blow Off Valve (BOV) or Bypass Valve (BPV), however, can help to avoid any leaks, venting excess pressure.
Whilst the BOV releases air from the system, the BPV moves it from a high-pressure zone to a low-pressure zone. The important thing to consider here, like many modifications, is how you are using your Subaru WRX STi. If you're using it as a track car, then the BOV is the right choice, but if you're simply using it as a daily driver, then a BPV will be just fine.
Whilst this can be an expensive upgrade, this modification gives you much-needed improved airflow and that iconic "psh" noise from your Subaru.
9. Steering Rack Upgrade
If you're looking for new and improved handling, then a steering rack upgrade might be the modification for you.
The perfect upgrade for the Subaru track-day driver, this mod will improve steering response, and will make driving your Subaru all the more exciting. Be aware, however, that this upgrade does not provide drastic results, so if you're looking to improve the handling, then you might want to consider another modification such as coilovers alongside this.
If you're thinking of going for it, then the Spec C or JDM quick rack upgrade is a great option for UK cars thanks to its 13:1 ratio. And if you're still looking for a reason to upgrade your steering, or simply need some inspiration, you can check out Andrew's 2003 JDM Subaru Impreza WRX STi in our Garage.
10. Styling Upgrades
And we couldn't finish the list without a little bit of style! There are some simple, yet impactful exterior modifications you can make that will really change the look of your scooby.
Whether it's fitting front and rear lips and skirts or adding mudflaps, adding these minor modifications gives you that lower, more aggressive stance (and it doesn't break the bank!). These cheaper and easy-to-do mods also give you that freedom to really tear up the racetrack without the worry – no brainer right?
Looking for modified car insurance to cover your Subaru WRX STi?
Modifying performance cars is an exciting prospect, and we understand you want the right insurance in place to cover your pride and joy. Request a quote or call 0208 329 1150 today to discover the modified car insurance cover we provide at Keith Michaels.