For several years, Keith Michaels has been a key sponsor of Team Legacy, providing not only sponsorship for the race car but Gary Moulson, the key contact for Team Legacy and modified insurance specialist, sourcing cover for the team's own collection of JDM cars.
This year was their best racing season to date, and we are proud of the achievements Damien Bradley and his team have made this year.
Records Set by Team Legacy in 2021
Team Legacy set five records this year in different hill climbs.
Damien, racing in the Subaru Legacy, set four records:
The Harewood Hillclimb Class 3C (Modified Production) Record at 58.22 seconds. You can watch that here.
The Barbon Hillclimb Class C3 (Modified) Record at 25.66 seconds.
The Prescott Hillclimb Class C4 (Modified Cars Series Production Cars 4 Wheel Drive of any Engine Capacity) Record at 43.84 seconds.
Shelsley Walsh Class C3 Record at 29.39. You can watch that here.
And Steven Darley set a new record this year in the Legacy as well:
The Loton Park HillClimb Class C4 (Modified Series Production Cars over 2000cc) Record set by Steven Darley at 55.11 seconds.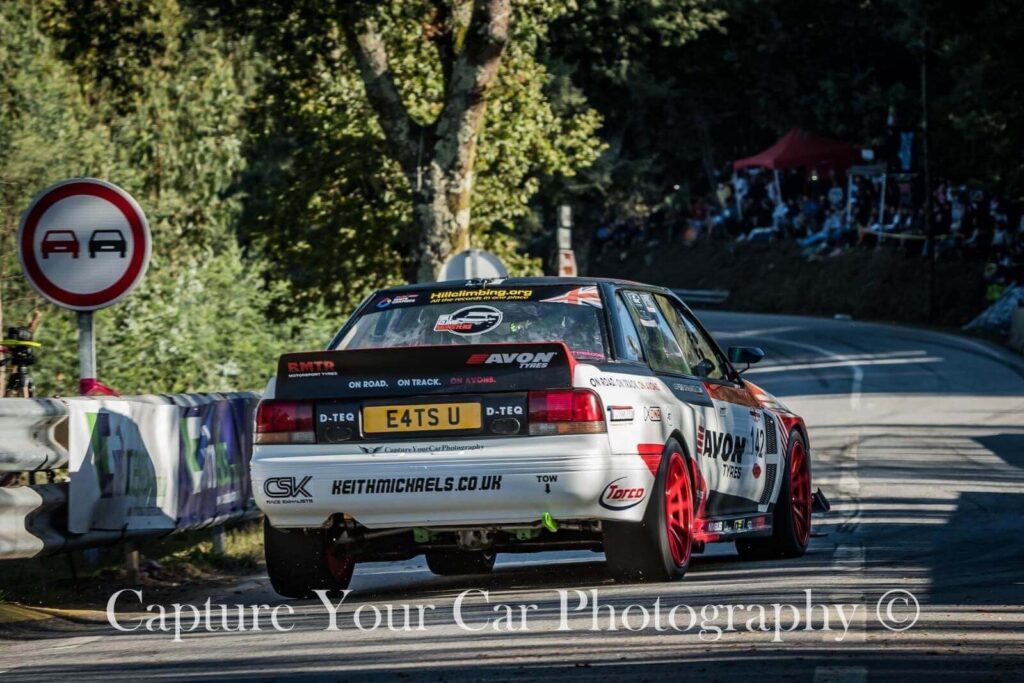 Class Wins of 2021
Across the year, Team Legacy competed in a variety of hill climb competions, placing extremely well in all.
British Hillclimb Championship Rounds
As well as setting numerous track records, Team Legacy also won their class multiple times:
Steven Darley won the class at:
And Damien Bradley won the class at:
Shelsley Walsh
Barbon
Harewood
Prescott
Wiscombe
Brighton Speed Trials
At the Brighton Speed Trials, the team won the C3 class with a 9.81 second run, reaching 140mph. You can watch the run here.
They had the fastest 64ft overall and came 2nd in the ¼ mile overall.
Quick 60 Results
At the Quick 60, they won the Wild Pre-1998 class with a 31.35 time, coming 3rd overall.
Midland HillClimb and British HillClimb Championships
At the Midland Championships, Team Legacy won the C4 class, and at the British won the C3 class.
European HillClimb Masters
Once in Braga, Portugal, Damien knocked a huge 2.5 seconds off his time on the third run, taking the 2nd place in the Category 3, and joined three other British Silver Medallists.
Team Legacy and Keith Michaels Partnership
Damien said "As stated before, I cannot thank you enough for the support, this season has been amazing, to qualify for the European Masters was a dream come true for me and to win a place on the podium surpassed all our expectations.
We have some big things planned for 2022 and we hope Keith Michaels will continue to work with us next season."
Here at Keith Michaels, we are always delighted to work with Damien and Steven at Team Legacy and cannot wait to see what the next season brings! What a fantastic season this last one was.
Gary Moulson, the team's key contact here at Keith Michaels, said "I first met Damien at a Subaru Impreza Drivers Club track day in 2007 and our friendship grew from there. In the years since, we've done many more track days together and developed the Keith Michaels/Team Legacy relationship, with me even representing Team Legacy at the Brands Hatch Time Attack event in 2020. We're incredibly proud of Damien and the team's achievements during this time and look forward to working closely together into the future."
Keith Michaels is proud to insure and support enthusiast drivers, from those who compete in modified cars like Team Legacy, to those who enjoy track days for the thrill it brings. For a car insurance specialist who cares about you and your car, speak to us today.