Research carried out by computer scientists has recently come to light revealing just how vulnerable keyless entry cars are to theft. Thousands of cars fitted with the Megamos Crypto system are at risk of being electronically hacked by thieves who can easily disable high tech security devices and gain entry.
This flaw was identified back in 2012, but Volkswagen won a High Court injunction to prevent it from being publicised. Now that the truth has been revealed, car owners have been warned to be extra vigilant with their keyless cars in order to reduce the risk of theft.
If you have a keyless car or are considering buying one, read on for more information:
The Weakness Behind the Megamos Crypto System
The Megamos Crypto security immobiliser is designed to prevent thieves from gaining entry and 'hot wiring' a car. To a keyless car, a transponder device fitted in the key fob sends an identification code to the immobiliser. This confirms that the right driver is trying to gain access.
However, eavesdropping thieves can easily intercept these signals. Using a process of reverse engineering – which involves a commercially available computer programme – they can identify the security codes used to start the car within 30 minutes.
The researchers found that a very simple code is used to unlock the car, which means anyone could quickly identify the pattern and gain entry. Unfortunately, experts say the flaw is difficult to fix and will cost the manufacturers – who claim to have sold 100 million radio frequencies for the device – millions.
What Cars Are Fitted With The System?
The security device is used by 26 car manufacturers. These include Audi, Honda, Volvo, Volkswagen and high end and performance marques such as Porsche, Ferrari and Maserati. The table below highlights the makes and models of cars fitted with the vulnerable system. The cars in bold are the ones researchers used in their investigation.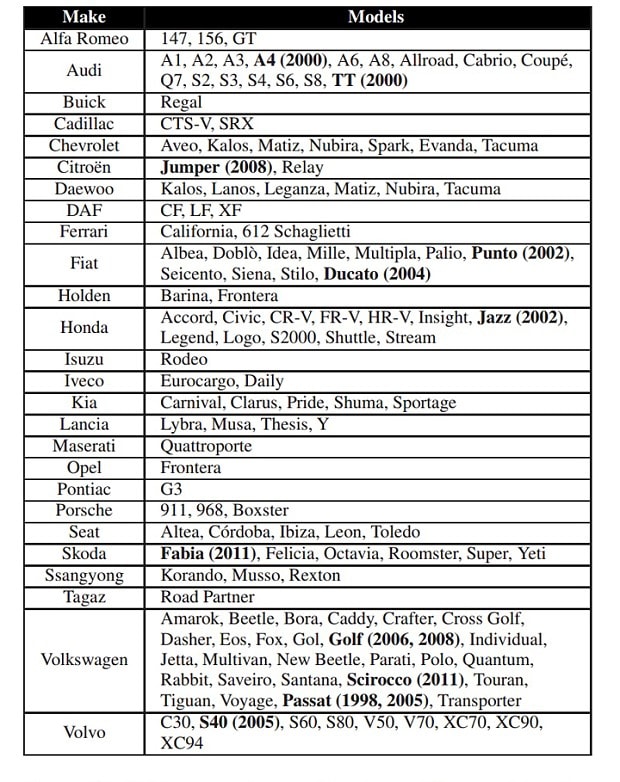 Table sourced from The Telegraph.
What is Being Done to Prevent Keyless Car Theft?
The Organised Vehicle Crime Unit (OVCU) is investigating organised crime groups who are considered to be the common culprits of keyless car theft. These criminals tend to target specific models which they then break into parts and have exported abroad. The OVCU is also working with the motoring industry to support the design of keyless car security systems that are less vulnerable to electronic hacking.
How To Protect Your Car
According to the Metropolitan Police, thefts of cars with keyless ignition accounted for half of car thefts last year – around 6000 in total. Experts believe these types of cars are more vulnerable to theft in certain situations, such as car rental and valet parking, where thieves could have access to both the immobiliser and the car keys. Avoiding these situations and always parking your car in an open, secure and well-lit area will help to lessen the risk of it being stolen.
It is also recommended that you buy a traditional steering wheel crook lock to maximise security. These cost around £30 and will make it harder for thieves to steal your car. Having a tracker fitted may also be worthwhile. If your car is stolen, a tracker increases your chances of finding it. Also take care to keep your keys out of range and locked away safely when you are at home or at work.