Hybrid cars have been around for a while. In fact, the first hybrid as we know it was created in 1997 by Toyota and this car, the Prius, was first released in Japan. Yet, the concept of a hybrid is nothing new. Instead, they have been around since the 1800's when Ferdinand Porsche, an automotive engineer, created a car that had a gasoline engine, which powered an electric motor.
With its rich and interesting history, hybrids have only grown in popularity over the decades. At the centre of discussions about alternative cars for a busy marketplace, hybrids have a favourable reputation for offering drivers something new yet functional. The range, both in terms of cars available on market and their mileage, is a transition spot perfect for those considering electric.
The History of Hybrids
At the time Prius debuted in the UK market in 2000, hybrids struggled to gain fandom and popularity. Hybrid ranges remained in the background for a few years until the UK became increasingly environmentally consciousness and other, greener alternatives became more of an urgent priority to drivers and policymakers.
The UK government has even supported this transition away from conventional petrol or diesel engine vehicles, leading to new alternatives, such as electric mobility. The plans for carbon reductions, including congestion charges, T-Charges, and many more legislative changes, have been used to encourage drives to consider the likes of electric or hybrid.
According to the SMMT (Society of Motor Manufacturers and Traders), sales of all hybrids have increased 10.8% from YTD (year to date) 2020 to YTD 2021. This is impressive, considering how this was a challenging time for the motor industry.
Many consider hybrids a tempting choice, especially in the AFV (Alternatively Fuelled Vehicles) community and market. This is partly due to their similarity with ICE (internal combustion engine) vehicles, but how they bridge, or help buyers transition into, electric vehicles (EVs). Whilst they aren't the most eco-conscious option on the market, they offer buyers a balance.
Types of Hybrids Car
A 'hybrid' can seem an ambiguous label for a range of cars. Yet, it is useful in describing how a vehicle can balance the benefits of a conventional car, but with alternative features and designs. There are, in fact, four different types of hybrid cars. Depending on your type of hybrid, each has its own benefits and disadvantages.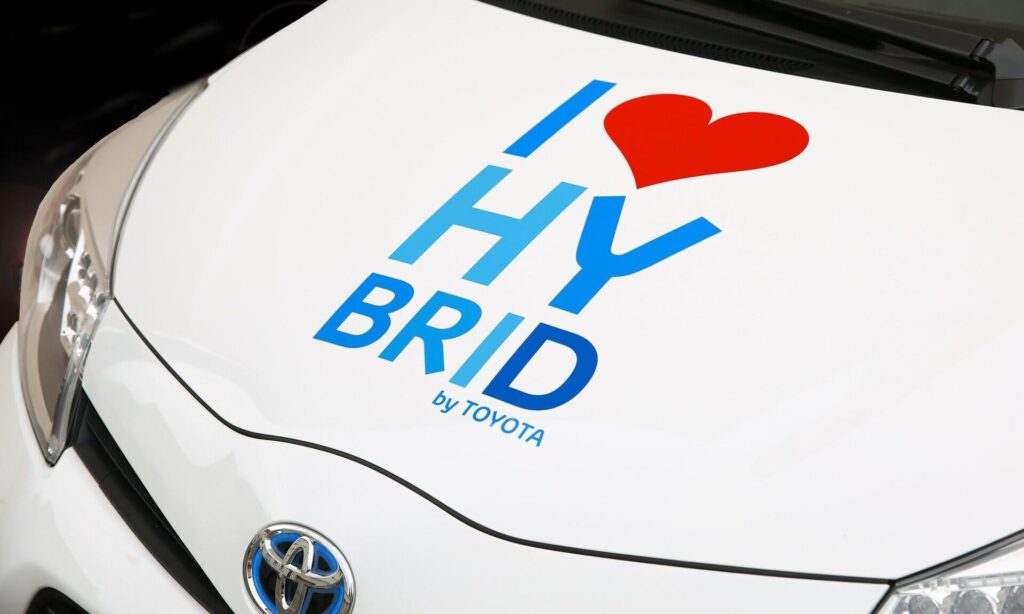 1) Mild Hybrid Cars, explained
Mild hybrids have two components to the drive train that cannot be used separately, instead the electric component is used to assist the main combustion engine.
By using a brake regaining system, the electric motor absorbs excess kinetic energy and uses it in a variety of ways. Most mild hybrids use it to smoothen the stop-start process and for similar assistance. Other car manufactures like Ferrari's LaFerrari use it to power ancillary systems, such as media displays to reduce overall fuel consumption.
Mild hybrids are a great entry point for newcomers recently introduced to hybrid cars, because they are often the cheapest type of hybrid on the market and don't require any lifestyle changes.
Advantages:
Almost no difference to driving a combustion powertrain
Entry level hybrid, making it a cheaper option
Reduced fuel consumption
Smoother drive
Disadvantages
Not exempt from London congestion charge due to tailpipe emissions
Highest CO2 emissions of all hybrid types
Cannot run on electricity alone
Full Hybrids (or Parallel Hybrids), explained
Full, or parallel, hybrids are what people normally think about when they hear hybrid cars. Perfect for city driving, they can run their internal combustion engine or electric engine either in parallel or separately. The electric motors are built into the drivetrain, so they can operate independently, unlike a mild hybrid model.
Parallel hybrids are great for inner-city driving, or in similar stop-start environments. At low speeds, normally up to 15 mph, the car models will run on pure electric. Powered by regenerative braking, and storing the power from deceleration, full hybrids never need plugging-in.
Drivers who cover high mileage journeys in built-up locations and similar environments, especially professionals like sales representatives or business drivers, often prefer these hybrids as their MPG is often higher than other vehicles.
Advantages
Higher MPG than ICE equivalents
Great for inner-suburb driving
Car can optimise the engine use based on environment
Disadvantages
After October 2021, they will not be exempt from the congestion charge
Not great for motorway drivers, as the weight plus set up means you lose the electric benefits
Maintenance costs can be higher
Plug-In Hybrids, explained
Plug-in hybrids, commonly expressed as PHEVs on the automotive circuit, require plugging in for charge. Giving the driver the benefit of a larger electric source, these models are becoming more popular thanks to their impressive MPG claims. The Mitsubishi Outlander, a popular PHEV, has a listed MPG of 139.7!
PHEVs are one of the fastest growing areas of interest regarding hybrid vehicles. By simply charging overnight, you can add a significant benefit to the drive, such as the higher MPG. The added battery size means you can drive in a more blended style, by allowing the car chose when to use the battery vs ICE, and this is best for optimal fuel consumption.
Advantages
PHEVs are lower emissions than other hybrids
Better electric only range
Impressive MPGs
Disadvantages
Not ideal for driving on motorways
Require charging overnight to maximise potential (an electric access point is needed)
Range Extender Hybrids, explained
The often-forgotten hybrid model, range extender hybrids are uncommon but still relevant.
As a result of the increased power of PHEV and pure EVs, range extenders have fallen out of fashion domestically, yet commercially are favoured by taxi and bus companies.
They operate to the opposite of a parallel hybrid model. A range extender powertrain is a small combustion engine that extends the range of a battery pack. They also use regenerative braking technology to power the batteries, only turning to the combustion engine when necessary. As a result, they are valuable for reducing emissions.
By drastically reducing the range anxiety of a traditional EV, they suit commercial applications such as taxis, buses, and more. There is very little power behind a range extender hybrid, which makes them less than ideal for domestic use. In fact, there are only few ranges manufactured for domestic use, but the BMW i3 range extender is one of the more popular models.
Advantages
Ideal for reducing range anxiety
Commercial application is high
Most efficient form of hybrid
Disadvantages
Limited availability to purchase domestically
Less powerful than other types of hybrid
Fallen out of favour with manufacturers