Your Guide to Business Car Insurance
Business car insurance is necessary if you use your car for business purposes. You need business car insurance if you drive to between several locations, or if a colleague regularly takes your car to visit clients. You will also need it if you drive hundreds of miles a week for business purposes.
Why?
Because the average company car driver covers 18,266 miles every year, more than double that of domestic drivers. It is no wonder, therefore, that of the 15,000 crashes on UK roads in the last 3 years, 20% involved a business driver. If you are involved in a crash while driving for business purposes you will not receive the compensation you deserve unless you have the appropriate cover.
Driving without business insurance
If you only use your vehicle to commute to and from work your personal insurance policy will normally keep you covered. You may not need business cover.
But, the reality is many people are still unaware what constitutes business use of a vehicle. This means that, right now, there are thousands of uninsured business drivers on the road.
Do I need business car insurance?
You need business car insurance if you…
Run business errands during the day
Travel to client or business meetings
Travel between different business sites
Drive colleagues or business contacts around
Allow other employees to drive your vehicle
Make deliveries or collections
If you do these kind of activities, you need business car insurance to stay covered.
Need more information or a quote?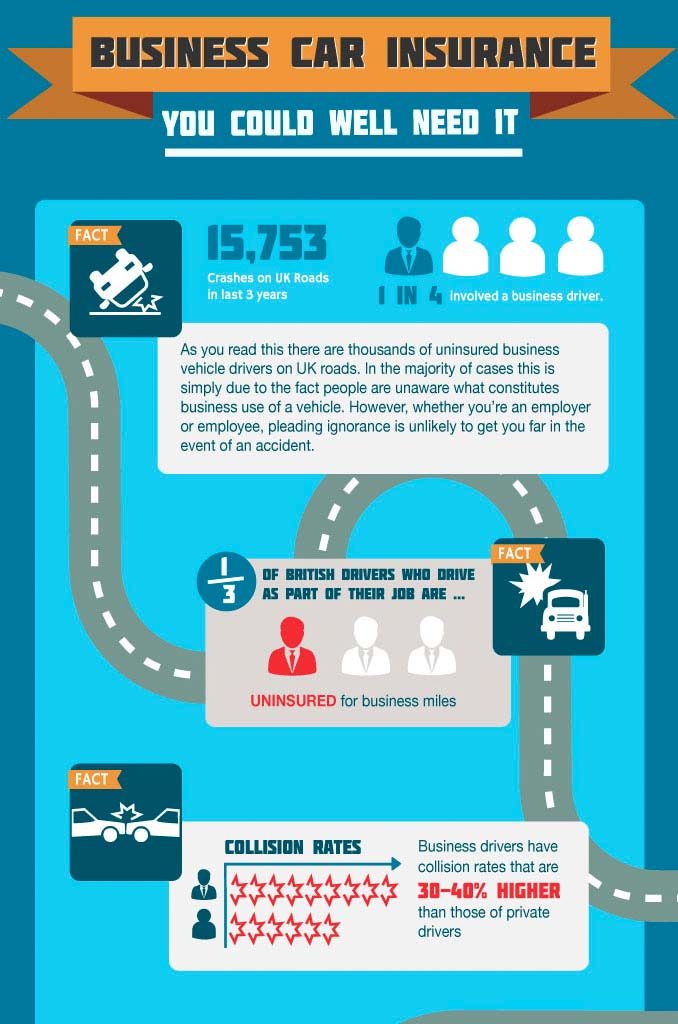 Discover more with our Guide to Business Car Insurance
Business car insurance classes of use
Class 1 Business Car Insurance
Business class 1 car insurance covers you for social, domestic and pleasure use in addition to driving to and from your place of work. It also covers the policy holder for short business journeys between different sites.
Sometimes this class of business car insurance will also cover your spouse, but this will differ depending on your insurer (no other named drivers).
Class 1 business use will not cover commercial use for deliveries or door to door sales of any kind.
Class 2 Business Car Insurance
Class 2 business use expands from class 1 business insurance to include additional named drivers on the policy that are usually part of the same business as the policy holder. As with class 1 business insurance, this class does not cover deliveries or selling of any kind.
The option to add colleagues onto a class 2 business insurance policy is often suitable for smaller businesses which have only one or two vehicles. This is because there are fewer limitations on travel and drivers than there would be with class 1 insurance.
Class 3 Business Car Insurance
Including everything class 2 business insurance covers, class 3 business car insurance also covers the policy holder for unlimited long distance travel with no set destinations.
This class of business insurance covers cars used for commercial purposes such as door to door sales.
However, commercial insurance will need to be organised for cars used as mini-cabs, private hire or for driving lessons as this is more of a specialist requirement.
*Each policy class varies by insurer. To prevent yourself getting caught out contact one of our experienced business car insurance brokers who can talk you
through the commercial vehicle insurance process and find you the perfect policy for the best price.
Business car insurance FAQs
If you step behind the wheel for anything work-related other than your daily commute, you need business car insurance. Some of the reasons insurers treat it differently are because people who drive for work might:
– carry extra equipment
– drive on unfamiliar roads
– use a car on a more regular basis

This isn't true of everyone who drives for work, of course. So it's important to be clear about what your needs are to your insurer.
 
Some large businesses may have insurance policies that cover their employees if they have an accident while driving their own car for business use. If your employer does you may not need business car insurance at all. Either way it is important to check, whether that's to prevent you from taking out an unnecessary policy or to stop you from driving without business insurance.
It is common for employers to reimburse employees for the costs incurred while driving their personal vehicle for business use. This is to cover business insurance as well as wear and tear that occurs as a result of the extra miles covered. This means the amount you are paid per mile should be higher than the cost of fuel. 45p a mile is the fairly standard rate but this can vary dependent upon employer and distance covered.
Business car insurance cost limiting is exactly the same as personal car insurance in many respects. If you're yet to buy a car then you should consider engine size (the smaller the better) and fuel efficiency.
You could also install extra security devices such as immobilisers, steering locks or trackers. Also try to secure off street parking for your vehicle to bring down your premium.
With specific regard to business car policies, try and agree a realistic mileage limit with your insurer. This will help you reign in your costs better than an open ended mileage agreement. However, you must be sure you won't exceed the agreed limit. If you do your insurance will be invalid unless you pay what is likely to be a hefty charge to up the limit.
You can also help secure a fantastic deal using a business car insurance broker like us. Using skills acquired over 25 years in the insurance brokering business we can find you the perfect policy to meet your requirements, no matter how specific they may be.
Learn more about keeping your business insurance costs down
.
Basically, business car insurance is an insurance policy that covers your vehicle for business use. There isn't a one size fits all business vehicle insurance policy. Based on your different requirements you can pinpoint which one suits you best.
Good news if you drive a company car, your employer should have covered you for both personal and business use. However, it is down to you to make sure. There is more information on our applying for business Car Insurance page
Invariably the cost of business car insurance is higher than personal cover due to the increased risks. A typical business car user will drive further, on more unfamiliar roads and sometimes in heavier traffic than a personal user. Don't be tempted to withhold information in the hope of getting a cheaper policy when discussing business car insurance with an insurer. This would invalidate your policy in the event of a crash, making you personally liable for covering any costs.
As with any type of insurance policy, doing your research and shopping around will help you find a good deal. However, as a specialist insurance broker of 25 years we have a huge amount of experience in arranging personalised business car insurance policies for individuals and companies alike. Contact us today for more information on how we can find you the ideal commercial vehicle insurance policy.
Business Car Insurance Infographic
Want to share this infographic on your site? Simply copy this embed code below.
<a href="https://www.keithmichaels.co.uk/business-car-insurance/info/business-car-insurance-explained/" title="Business Car Insurance"><img src="https://www.keithmichaels.co.uk/bussiness_infographic.jpg" alt="Business Car Insurance"/><br/>
Keith Michaels Business Car Insurance Specialists</a>