Amongst other electric unveilings, Renault recently released the Trezor concept at the Paris Motor Show 2016, and it's a stunner. With a red roof and windscreen that slides open to let you get in and out, carbon bodywork and an extending rectangular steering wheel – it's certainly futuristic.

Looking at the Trezor, it seems Renault have come a long way from the 'interesting' electric anomaly that is the Twizy – the small, arachnid-like city runaround released in 2012 that manages to leave eyebrows raised for all the wrong reasons. In fact, with the electric car market growing year on year, and car manufacturers consistently competing for the next best electric car that ties in performance with practicality, it seems room for cars like the Twizy is shrinking.
With the top spec Twizy costing just under £8000, it's a great deal of money to part with for such a small bit of car. Plus, with no windows, the only option is flexi-windows and plug in electric blankets for warmth in the winter. Conclusively, it's a car you can only drive comfortably for parts of the year, and for around 60 miles per charge.
Just as a quick reminder, here's what else you could buy for £8000 and under (and these pack more than just flexi windows).
Subaru Impreza 2.5 WRX Turbo – 2007
Mitsubishi Lancer Evo 4 – 1996
Classic Mazda MX5 MK1 -1991
We're sold.
Okay – sensible suggestion time: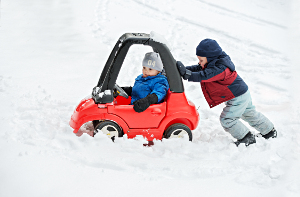 To clarify, we are all for electric cars, and we agree that the Twizy could make for a fantastic city runaround if that's all you need – there's no denying it's compact and environmentally-friendly.
We just can't get over the looks, or the price, or the fact that it only plugs into a domestic plug if you don't have an adapter.
So, if you're dead set on getting an electric car but can't quite afford the stretch of a Tesla Model S, BMW i8 or i3, then we have some sensible alternatives below that won't leave people confusing your car for a Little Tikes Cozy Coupe.
Nissan Leaf ( For 2011 – 30,000 miles, Automatic – APPROX: £7,000)
The Nissan Leaf has built in SatNav, wheel mounted controls and a range of 125 – 155 miles. The top speed is a mere 87 mph, not much, but enough to not fear for your life on a motorway.
Renault Zoe (For 2013 – 16,000 miles – APPROX £5,500)
With a stated range of 130 miles and a top speed of 84mph, the Renault Zoe packs in a lot of the usual features sought by today's drivers, including SatNav, air conditioning and Bluetooth connectivity.
What else can we say; these two do everything a normal runaround should do, without the emissions. They're by no means fast (or particularly masculine for that matter – Zoe? Come on) but they offer everything an electric car stands for without sacrificing road comforts we've become so accustomed to today.
In essence, it seems we can expect to see more electric cars made for the car enthusiast in the future, and we can't wait (as long as they're not a Twizy that is).