Renewing a UK driving licence as a UK resident is a simple process – but how easy is it for an expat to renew their UK driving licence?
Like most countries, there are strict laws around the issuing of driving licences in the UK and clearly-defined guidelines to follow when submitting an application.
However, the guidance is very different if you are an expat living outside the UK.
This blog will look at the many factors UK expats should consider around UK driving licence renewal.
Can I Renew My UK Driving Licence While Living Outside the UK?
The simple answer is: no, but there are options to ensure you are still able to drive in the UK and abroad.
Driving licences must be issued by your country of residence. Therefore, if you don't reside permanently in the UK you cannot apply for or renew a UK driving licence.
These rules have been laid down by the Driver and Vehicle Licensing Agency (DVLA) which is responsible for administering driving licences in Great Britain which includes England, Scotland and Wales. Whereas, the Driver & Vehicle Agency (DVA) is responsible in Northern Ireland.
So, could that scupper your plans as an expat? Of course not. Dependent on your need to maintain your UK Driving Licence as an expat, there are plenty of ways that you can still legally enjoy driving or utilising a car within the UK or abroad.
What Does 'Permanent Residence' Mean For Expats?
We have established that anyone wishing to apply for or renew a GB or Northern Ireland driving licence must be a permanent resident of the UK. For UK expats overseas, this might not be possible.
It is down to the individual to determine their status as a UK resident or a visitor. If you are unsure of your status, it is advised to seek legal advice to obtain a definitive answer.
It is a criminal offence to use someone else's UK address such as that of a family member or friend to obtain or renew a driving licence.
The DVLA also makes it clear through legislation that 'temporarily visiting' indicates your presence in GB for 'casual purposes as opposed to regular habits of life.' This means visitors can drive around Great Britain on their valid foreign driving licence for up to one year from the day they last entered the country. The law around this is slightly different in Northern Ireland. However, in both situations, temporary visitors will not be able to apply for a UK driving licence as they do not have a permanent UK address.
The DVLA's Response to an Expat Renewing a UK Licence
The DVLA recommend that anyone wishing to obtain or renew a GB driving licence will be required to sign the following declaration on the D1 application form:
'I declare that I am resident in the UK and understand that it is a criminal offence to make a false declaration to get a driving licence and that to do so can lead to prosecution and a maximum penalty of up to two years' imprisonment. I also understand that failing to provide information is an offence that could lead to prosecution and a fine up to £1,000.'
Therefore, expats living outside the UK are considered not to be in possession of a permanent UK residence. The onus is on the individual to determine their residential status or seek legal advice for clarification if necessary.
Further guidance from DVLA states:
'Neither visitor nor resident is defined in driver licensing legislation. It is for the individual to determine his/her status by seeking legal advice if necessary. The ultimate decision is down to the individual concerned and he/she must be prepared to justify his/her status if challenged.'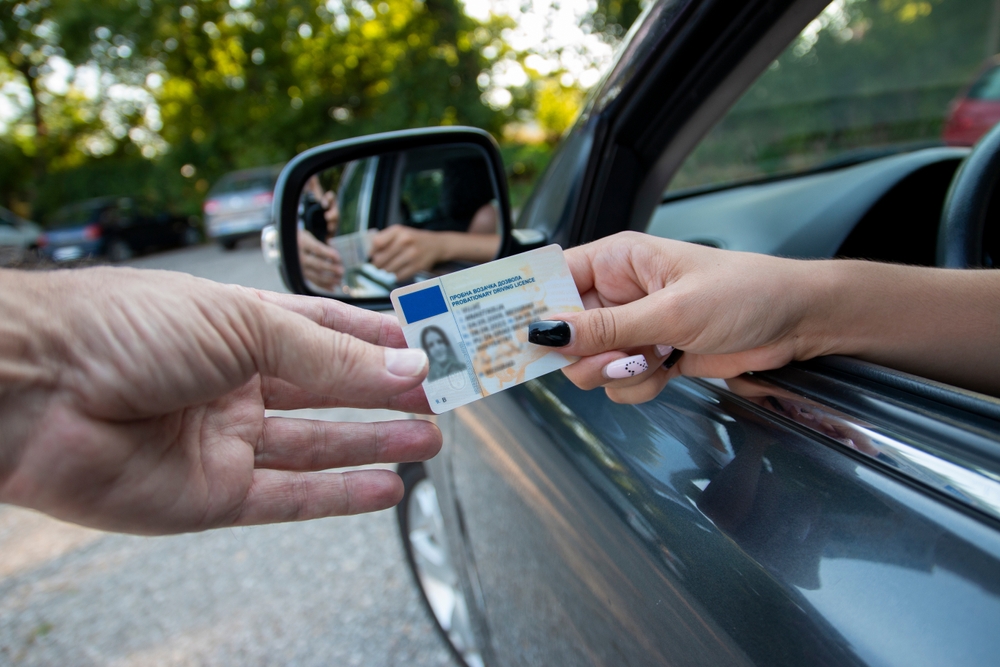 Can Expats Drive on UK Roads?
If you live outside the UK you can still legally drive on UK roads. However, to do this you must be in possession of a local driving licence issued by the country of your permanent residence.
Thankfully, the DVLA has an online tool to check if you can drive in Great Britain with your non-GB driving licence. This excludes Northern Ireland.
There are different rules for driving in Northern Ireland with a non-Northern Ireland licence. If you are in possession of a driving licence issued by the country of your permanent address, there are certain conditions that affect how long you can drive and which vehicles you can drive. The DVA also has an online tool for checking this.
Essentially, if you're visiting GB or Northern Ireland for a short period of time you should be able to use your foreign driving licence to drive on highways and roads.
However, if you intend on staying in GB or Northern Ireland for one year or more, it is wise to exchange your licence for a UK one.
Depending on the country your licence was issued in, you may be required to re-sit your driving test in the UK.
Can I Drive in the UK with a European Union Driving Licence?
Anyone holding a full licence issued in an EU country can drive in Great Britain or Northern Ireland using their original licence until it expires. There is no need to exchange it or retake your driving test and these rules are unaffected by the UK's withdrawal from the EU. The same rules apply to those with a European Economic Community (EEC) driving licence.
Do I Need Car Insurance to Drive in the UK as an Expat with a Non-UK Licence?
Yes, having car insurance is a legal requirement in the UK. The minimum cover is third-party insurance which means you are protected if you have an accident and cause damage to another driver, person, vehicle, animal or property. It does not cover the cost of vehicle repairs.
If you are visiting the UK for the long term and borrowing a person's car you must be added to their policy cover for the duration of your visit, as long as it does not exceed 12 months.
What Other Driving Licences are Valid in the UK?
Even though you will be prevented from renewing your UK driving licence if you do not have a permanent address in this country, you can still drive in the UK for up to 12 months on a licence issued by a designated country.
In this circumstance, a 'designated country' refers to:
| | | |
| --- | --- | --- |
| Andorra | Faroe Islands | Singapore |
| Australia | Hong Kong | South Africa |
| Barbados | Japan | Switzerland |
| British Virgin Islands | Monaco | Taiwan |
| Canada | New Zealand | Ukraine |
| Cayman Islands | Republic of Korea | United Arab Emirates |
| Falkland Islands | Republic of North Macedonia | Zimbabwe |
When this 12 month period expires you must exchange your licence to keep driving on UK roads. You can also exchange it up to five years after becoming a UK resident as long as it hasn't expired without having to retake a driving test.
This rule also applied to those holding a driving licence issued in Jersey, Guernsey, Gibraltar, and the Isle of Man.
For those with a licence issued by another entity or country you may still be able to drive any category of small vehicle (cars, motorcycles, vehicles up to 3,500kg, vehicles with up to eight passenger seats) in the UK on your original, full valid licence for 12 months. Governing bodies within your country of origin should be able to confirm rules for driving overseas. After 12 months you must apply for a UK provisional licence and pass the UK practical driving test.
Can I Exchange My Foreign Driving Licence for a UK Driving Licence?
Yes, you can exchange your foreign driving licence for a GB one using the D1 application form from the DVLA. This form should be accompanied by personal documents including your original driving licence. A new GB driving licence should arrive within three weeks.
The DVLA has an online tool to help you exchange your non-GB passport for a GB one.
In Northern Ireland you will need the DL1 application form, then follow the same process. Click here for more details.
Do You Need Help With UK Car Insurance as an Expat?
Keith Michaels Insurance offers a range of insurance policies that cover you. As specialists with over 30 years of experience, we're here to help. Contact us now.