During last year's Christmas campaign, police stopped more than 100,000 vehicles and 5,698 breath tests were either positive, failed or refused.
Chief constable Anthony Bangham, lead for roads policing at the National Police Chiefs' Council (NPCC), said: "Every year police forces deal with cases of drink or drug driving that directly result in families facing Christmas without loved ones.
"Yet thousands of people still get behind the wheel after drinking or taking drugs – so this year we are supporting forces who want to tell the personal stories of lives lost and families torn apart."
Click to check out our Drink Driving Infographic: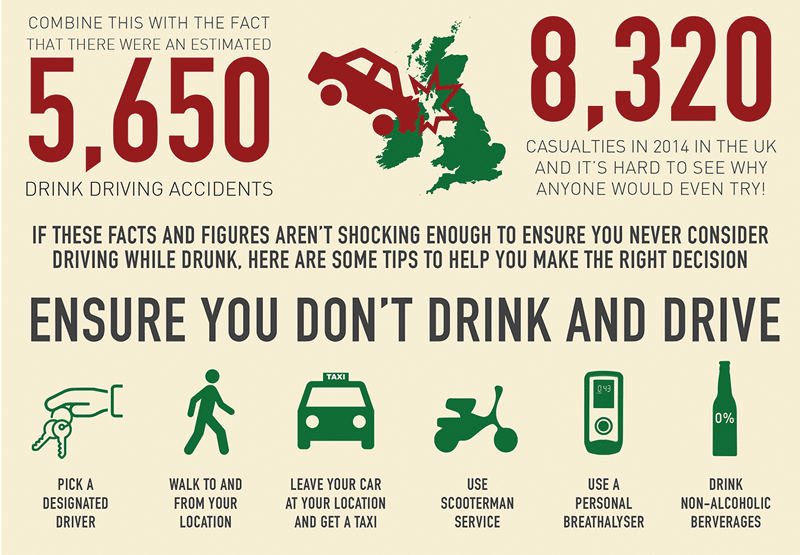 Measure your units
Alcohol is measured in units and they all add up.
25ml (single shot) of 40% spirit (eg. Vodka, whisky) = 1 unit
Pint of 4% beer = 2 units
250ml glass of 15% wine = 4 units
Pint of 5.5% cider = 3 units
250ml RTD (eg. WKD) = 2 units
Bottle of 12% wine = 9 units
For health reasons, the NHS recommends that men should not regularly drink more than 3-4 units of alcohol a day, and for women no more than 2-3 units a day, however even just one drink can affect your driving ability.
Over the limit
The legal blood alcohol concentration limit for driving in the UK is 80mg of alcohol for every 100ml of blood. However, there's no proven way to judge if you're over the limit by taking note of how much you've drunk. This is because many factors can contribute to how alcohol affects each individual – the only way you can be sure you're safe is to consume zero alcohol.
Even if you're legally allowed to drive after drinking alcohol, you may still be at risk of harming both yourself and other road users. Drivers with as little as 20-50mg of alcohol in their blood are at least three times more likely to die in a crash than those with no alcohol in their blood.
How Christmas booze affects your driving
Reduced reaction times
Reduced judgement and coordination
Reduced vision
Reduced skills in judging of speed and distance
Increased false sense of confidence leading to risk taking
Increased feeling of drowsiness
How to avoid temptation
It's not easy saying no to a drink when everyone around you is literally getting into the Christmas spirits. But there are some things you can do to control temptation.
Bring a fun drink without alcohol to a Christmas party
The great thing about not being at the pub is that you can drink what you like. So mix up your favourite non-alcoholic beverage and enjoy it all night.
Practice saying "no"
It's easier to avoid alcohol if it's never offered, but holiday hospitality virtually guarantees you'll be offered a drink or two, and not everyone will take a polite "no" for an answer. Don't let people change your mind.
Utilise the sober buddy system
This is an excuse to go out more over Christmas! If you drive this time, you can have your mate drive next time. When they owe you a night out, both of you get two excuses to enjoy the Christmas festivities.
Designated drivers
Stay safe and sober if you're driving this Christmas. The adult soft drink market has exploded in recent years, so there are plenty of interesting things to drink besides orange juice. Coca-Cola are bringing back their Designated Driver campaign for the tenth year in a row, so you can get free Cokes from over 7,000 bars and restaurants across the country.
So if you want to go out this Christmas and enjoy a drink, don't drive. Book a taxi or bag yourself a designated driving buddy and have a safe and happy Christmas!
Looking for more information about drive driving?
Check out our Festive Drink Driving Infographic

Want to share this infographic on your site? Simply copy this embed code below.
<a href="https://www.keithmichaels.co.uk/convicted-driver-car-insurance/drink-driver-car-insurance/" title="Drink Driving Infographic"><img src="https://www.keithmichaels.co.uk/static/images/Festive-Drink-Driving-Infographic.png" alt="Drink Driving Infographic"/><br/>
Keith Michaels Drink Driving Infographic</a>